Breakfast for gourmets
Do you attach much importance to breakfast? In "das Alois", breakfast is the occasion to start the day healthy and strengthened, to be fit for summit victories and the piste fun. It is also a ritual. Take time for each other and enjoy the meal together.

Daily from 07:30 am to 10:30 am, we offer a wide selection of healthy, regional dishes and ingredients.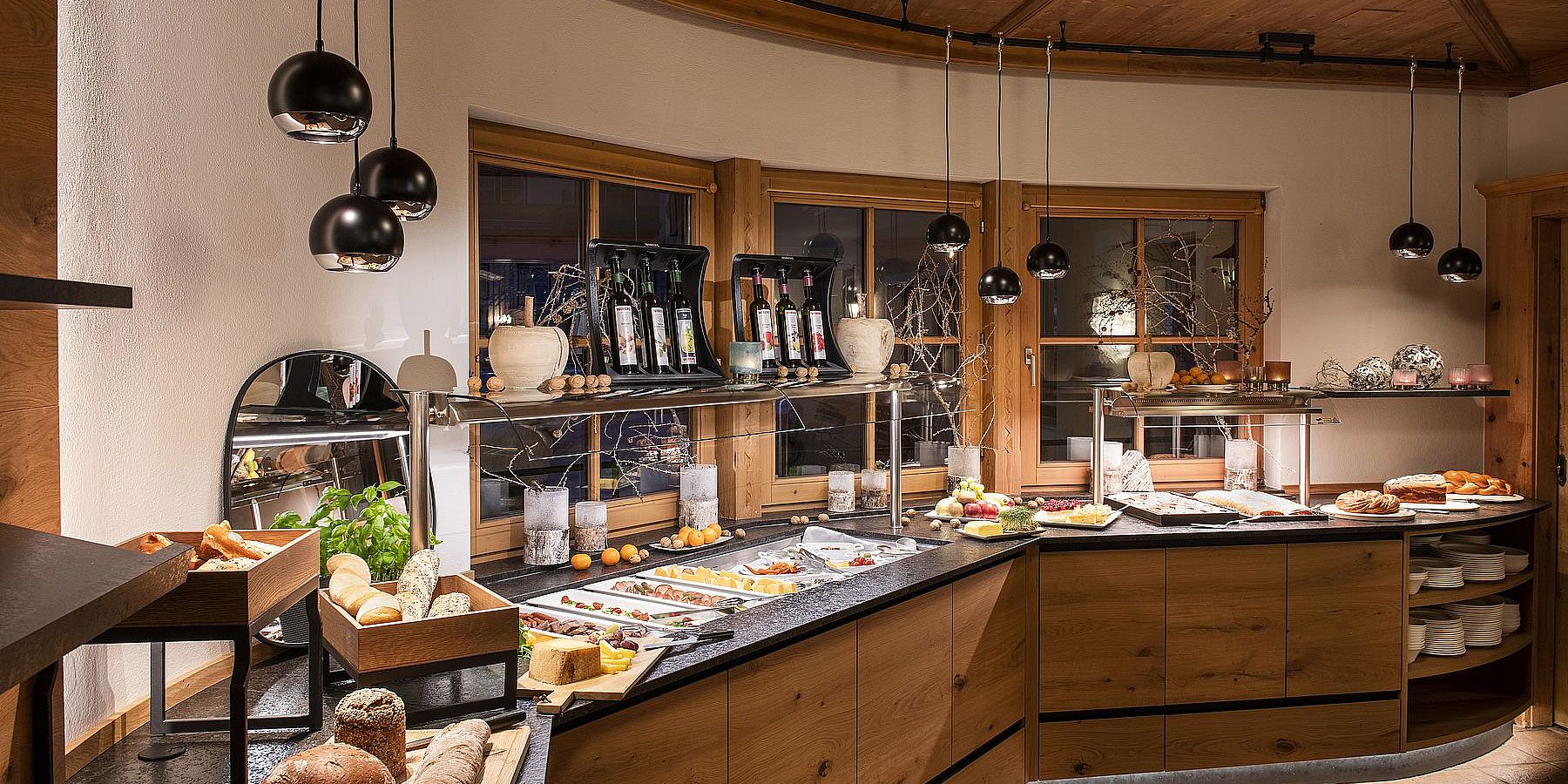 Bread specialties of the Tux family bakery Stock. In our restaurant you will find a selection of rolls, various pastries, farmer and mountaineer bread, spring bread, northerners bread, full grain bread, sweets such as croissants, chocolate croissants, donuts and cakes.

We serve coffee directly to the table. You can choose from several varieties. Classic black, but also specialties like cappuccino, latte macchiato, espresso macchiato are included in the price. For the little ones we offer cocoa or hot milk.

We butter the bread with Tyrolean mountain farmers butter, jams such as apricot, blackberry, strawberry, sour cherry and black cherry, honey specialties such as forest honey, alpine honey but also liver sausage spread, Philadelphia spread, Becel margarine and of course Nutella.
Sausage specialties such as honey and sauna ham, pepper sausage, salami, bacon and bacon, Krakauer sausage, pepper ham, paprika and special sausage. We choose cheese from the Zillertal dairy, which processes alpine milk from mountain farmers. So you will find alpine cheese and mountain cheese, Gouda, Tilsiter and many more. You can also choose from Camembert, Brie, Rollino cream cheese or walnut cheese loaves. Every day we offer delicacies such as salmon and fish specialties, tomato mozzarella or Parma ham.

Fried eggs with bacon, vegetables or bacon are freshly prepared for you and served at the table. At the buffet we also offer boiled eggs, scrambled eggs with bacon and a vital variant with vegetables or cream cheese. In addition there's freshly roasted vegetables, bacon and sausages. Highlight is the vital, on the metabolism tuned, very digestible breakfast porridge, daily freshly prepared from cooked grain and fruits.

We also prepare fresh, seasonal fruits such as apples, pears, grapes, apricots, plums, peaches as well as melons, pineapples and bananas for you every day. You will also find vegetables such as peppers, tomatoes, cucumbers, radishes at the buffet. Chef Norbert Kreidl himself selects all varieties carefully depending on the season and quality. He attaches great importance to regionality, seasonality, freshness and organic.
At the muesli bar you can assemble your favorite muesli yourself. You can choose from crunchy mueslis such as raspberry yoghurt, cherry chocolate, strawberry white chocolate, banana chocolate, smacks, Cini mini's. You can then add hot, cold milk, natural yoghurt, wild berry yoghurt, dried fruit or fruit salad as well as sunflower seeds, linseeds, oatmeal, sesame seeds and seeds.

At the buffet you can choose from a wide selection of fine teas from the premium company Ronnefeldt. You can choose from about 20 varieties. The assortment includes both loose teas and bags.

Drinks include freshly squeezed orange juice, the vital apple and carrot drink, several different fruit juices daily, such as multivitamin, grape, pear and pineapple juice, as well as homemade herbal juices, mineral water, mountain water and prosecco.

Of course we can supplement your breakfast lactose and gluten free. For vegetarian, vegan nutrition, there are also soya products, as well as alternatives such as almond milk to choose from.